Merrylife® Disposable Earloop Face Mask
$14.99 $39.00 You save: 61% ($24.01)
*The Blue Fack Mask 3-7 business days after ship out.
*The Pink&Black Face Mask will ship from China, usually takes 12-20 days. Can ship to the US, UK, France, Germany, Italy, Spain.
Disposable Earloop Face Mask
Size: 6.9X3.7 inches(17×9 cm), 50 units per box.
3-Layer design, high filtration efficiency, protect you from dust, smoke, car exhaust, pollen, germs, etc.
Adjustable Nose Clip, masks the mask fitting your face perfectly and protect better.
3D Folding design helps breathable and more comfortable when using.
Suitable for daily outdoor use, gardening, painting, architecture etc. Single Use Only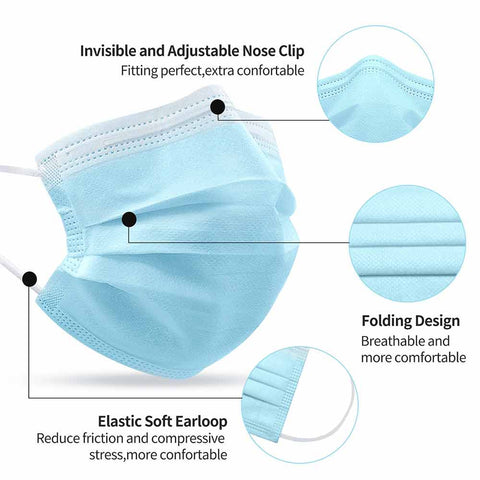 Features:
Great for Daily Health Protection
3 layer Fiber Fabric Construction
Arch Breathing Chamber
Metal Piece to Grip the Nose
Soft and Elastic Ear Loops
QUANTITY: 50 Units
PACKING: Box
How To Use
With clean hands, hold mask with metallic strip at the top and folds facing downwards.
Pull ear loops around the ears and mould the metal strip to the bridge of the nose.
Make sure the mask is secured around the face,covering the nose,mouth and chin.Once in position, avoid fidding with the mask to prevent contamination.
Single Use Only, Do not reuse.